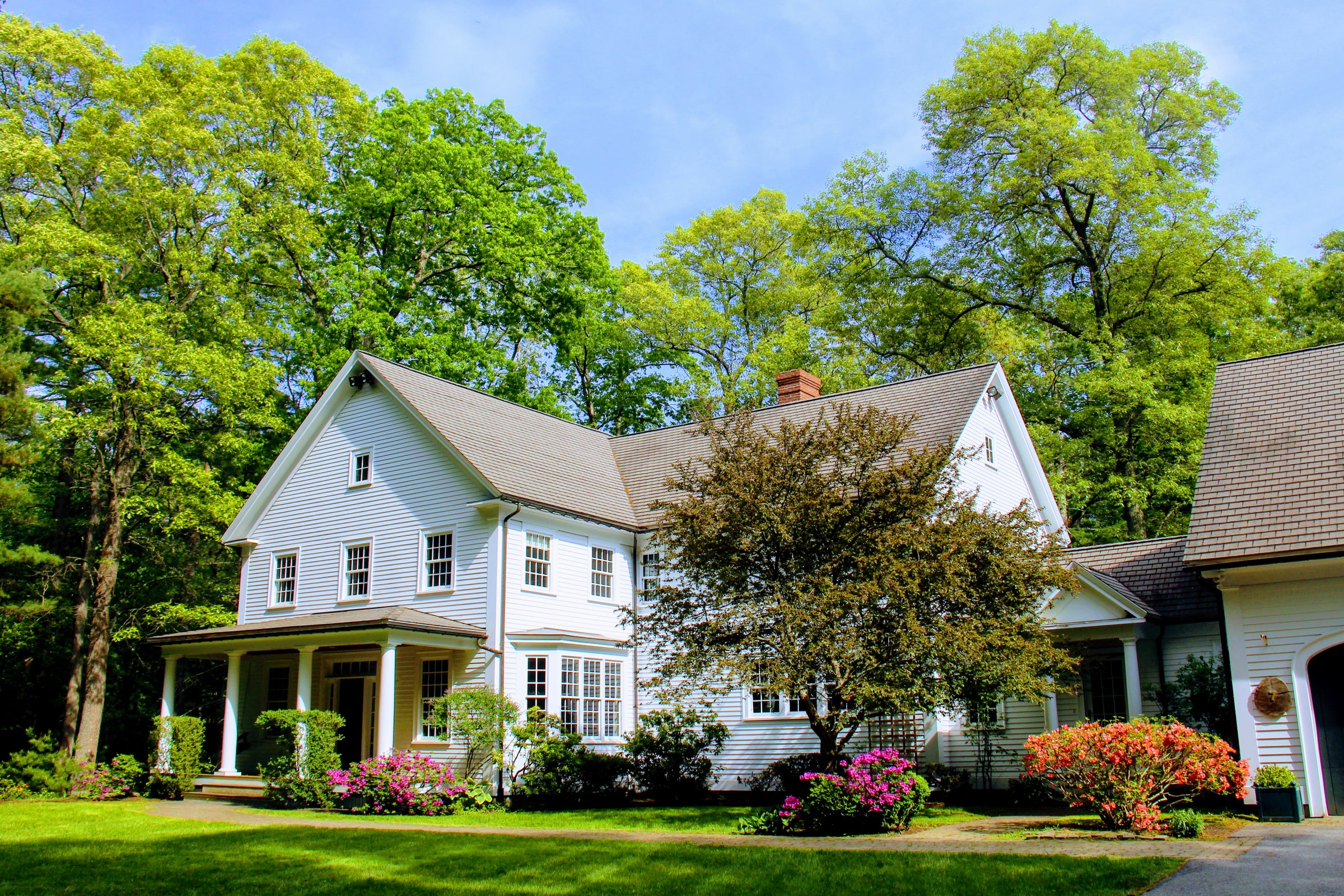 In our first project, we consulted to the Jostyn family in Hamilton, MA. We helped them make their home and property more environmental, to activate more of its potential to grow food and benefit others, and to make spiritual, relational, and environmental commitments and connections.
From the start, the owners asked us to follow inclusive guiding spiritual principles, such as wisdom, economy, beauty, childlikeness, neighborly love, and so on. 
We also researched the historical, geological, environmental, ecumenical, social, and religious context of the property. This background helped everyone involved to understand better how the property already fit into the local and regional community, and to imagine what its potential could be. 
We considered the small-scale farm as it was connected within a larger, wholistic ecosystem that includes the Hamilton community, the North Shore, the Greater Boston area, and beyond. And, we worked to develop a greater sense of connectedness between the house, grounds, forest, wetlands, and so on.
Over time, we and/or they... 
Conceptually
Created a mission statement for their property that encompassed their unique spirituality, goals, and desire to use the property to bless others;
In the forest
Contacted a licensed forester and walked together through the process of obtaining a Forest Stewardship Grant and implementing the recommendations; https://www.mass.gov/service-details/forest-stewardship-program 
Removed nearly 100% of invasive plants from the site, such as buckthorn and poison ivy in order to improve the soil, light, and water quality for native plants;
Repurposed much of the removed plant material into natural brush fencing, and kept discarded material onsite;
Created a compost area to help store and recycle removed material for later reuse;
Repurposed a large quantity of residual material into a natural berm boundary that serves to shield that compost area from neighbors;
Managed tree health by targeted patch cutting of diseased and hazardous trees;
Started a food-grade shiitake mushroom farm by harvesting 150+ logs from downed trees;
On the property and farm
Learned more about the property's soil through site-wide soil testing;
Worked to protect wetlands by maintaining natural water flow;
Began an onsite composting program for food scraps and chicken waste;
Installed a log-slice stepping path around the edge gardens in the yard that's beautiful, functional, and made solely of material from fallen trees;
Created a series of gardens along the forest edge with all kinds of berries and other semi-shade loving edible plants;
Added a large number of blueberry bushes to complement native ones already proliferating onsite and to generate a significant production crop;
Developed a chicken program, enabling the owners to donate 12-24 eggs a week;
Experimented with an indoor garden that enabled the donation of lettuce and kale;
Placed raised vegetable gardens around the house that host annual veggies;
Worked to install pollinator-loving plants and beehives;
In the home
Connected with second-hand sources that enabled furnishing the home sustainably and on a budget;
Installed many sustainable environmentally-friendly systems including solar, composting, occupancy sensor lighting, robot lawn mowing, and smart thermostats — all of which serve to save money, use resources in an intelligent and caring way, and conserve energy.  
In the community
Worked to build relationships with immediate neighbors;
Facilitated harvesting and deliveries of excess food to local organizations;
Instituted the hosting of annual Harvest Dinners.